This is probably the most useful resource I've... →
A collection of useful .gitignore templates
"The 11 in C++ 11 refers to the number of legs [..] nailed onto the dog whilst..."
– Dylan Beattie Twitter / CodeWisdom: "The 11 in C 11 refers to …
2 tags
Unittests should follow the F.I.R.S.T. rules
Fast: test should run quickly. If the method you are testing depends on a time consuming operation, mocking this will speed up the test enormously.
Independent: any test could be run at any time and all test should run in any order. This is probably where mocks help less.
Repeatable: test should be repeatable in any environment and at any time. Stubs are the best friends in this case: not only you can run them in any environment but you can easily reproduce any scenario.
Self-validating: the success of a test should be determined in an automated way. In the case you want to make sure a certain operation has been invoked, expectations are probably the only way to go.
Timely: unit test should be written just before production code. Once again, the impact of mocks is huge! They allow to test methods which depend on code that has not been implemented yet. Even more, they allow to test methods which depend modules that have not been designed at all! By using something that does not exists yet, you can design it from the perspective of the client. In this case the client is the System Under Test. This allows you to design API which simple, easy to use and tailored for the client's needs. This technique is called interface discovery"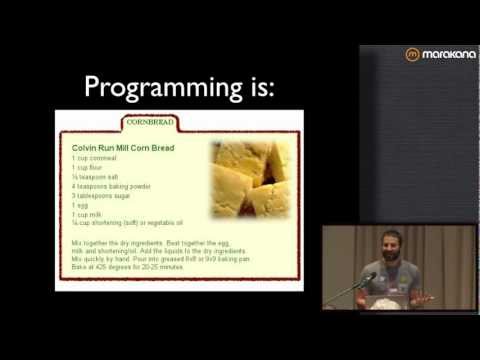 Magic (programming) →
dhotson: slashnull: Single-handedly the greatest page of the entire Wikipedia.
Watch
Building software is hard. Building high-quality software is even harder. And doing either on a tight budget and increasingly limited time is nearly impossible! Truthfully, there are so many more ways to fail in this industry than to succeed. But failing isn't always a bad thing. Often times we can learn from our own failures as well as those at other companies. This slideshare...
"Some code will be slower than we want because we don't have time to optimize it,..."
– Yossi Kreinin (via compilers)
Use long flags when scripting →
dhotson: Pro tip.
12 resolutions for programmers →
dhotson: The title sounds like linkbait, but it's actually a pretty good list.
1 tag
"If it stinks, change it!"
– Grandma Beck, discussing child-rearing philosophy
"[…] After changing teams about a year ago, I came back to C++. IMHO, C++ is the..."
– http://news.ycombinator.com/item?id=4864254 and wtf is this: Universal References in C++11. I mean I can deal with C, at least that has it's priorities straight, but I rather live with a bit of performance penalty (in your language of choice) rather than deal with the "sophisticated" so-called...
3 tags
Watch
Oredev Session: Programmer Anarchy
Open Source and Constraints →
dhotson: By Kenneth Reitz.
compare php with python, javascript and ruby
php:  $ TRUE ? "a" : TRUE ? "b" : "c" > b javascript:  $ true ? "a" : true ? "b" : "c"  > a python:  $ "a" if True else "b" if True else "c" > 'a' ruby: $ true ? 'a' : true ?...
Your team should work like an open source project →
Father hacks Zelda game to make Link a girl for... →
mrmoneda: Maya and I have been playing through Windwaker together; she likes sailing, scary birds and remembering to be brave, rescuing her little brother and finding out what's happening to Medli and her dragon boat. She's the hero of the story, of course. It's annoying and awkward, to put it mildly, having to do gender-translation on the fly when Maya asks me to read what it says on the...
Bug
creativeprogrammer: Obscure little bug. Wreaking havoc in my code. During my demo. # You little twerp! Where were you during testing?
Being Geek Chic: It's Ada Lovelace Day - Let's... →
beinggeekchic: Here's some things you can do to honor Ada Lovelace today: 1. Read some of these personal stories on Finding Ada - a site dedicated to celebrating Ada 2. Learn to code or program - HTML, CSS, PHP - so many options! 3. Listen to BBC Radio's Documentary on Ada 4. Learn…
"Crash the system every-which-way with failure injection. Build table of error..."
– Twitter / TinyToCS
"I have a text editor I've been using myself that is so complicated it makes VIM..."
– Typical Programmer - Linus Torvalds goes off on Linux and Git
Github is the Social Network of the Future →
Hot Damn!: 10 Things to Expect When You Learn to... →
drewdagostino: When I decided to learn web development, it was for business reasons. I was sick of not knowing what I was talking about. Now, I realize that it's become much more than that. It goes beyond the new languages, concepts, and opportunities. Coding has changed the way I think -…
When I use git stash
wheningit:
"You know you are working on clean code when each routine turns out to be pretty..."
– Ward Cunningham
"Clean Code runs all tests, contains no duplication, express the intent of the..."
– Ron Jeffries
"Clean Code always looks like it was written by someone who cares. There is..."
– Michael Feathers
"Clean Code can be read and enhanced by a developer other than its original..."
– Dave Thomas
"Clean code is simple and direct. Clean Code reads like well written prose. Clean..."
– Grady Booch
"I like my code to be elegant and efficient. The logic should be straightforward..."
– Bjarne Stroustrup
Nolan Roberson: Thoughts on being a programmer →
nolanroberson: Don't be an asshole. Simple code is hard to write. Exquisitely simple code is exquisitely hard to write. Just because it's easy to understand doesn't mean it was easy to write. In fact, the easier it is to understand, the harder it probably was to write. There are many ways to do something.
How statically linked programs run on Linux →
How statically linked programs run on Linux
It's somehow paradox: When you start with programming, you try to omit as much as possible, to avoid errors and fuckups. When you get more experienced, you write your code as verbose as possible for exactly the same reason. 
How to get paid to do what you love.
@isomorphisms: Easy. Just love programming.